Samsung has introduced its the Galaxy Tab 3
A nicely sized 7-inch 1024×600 display, dual core 1.2GHz processor,with an internal 8GB or 16GB memory with the capability of expanding up to 64GB with the memory slot, a 3mp rear  camera and 1.3 mega pix front camera array and  4,000mAh lithum battery. Improvements are the thinner bezzle, sim card supported so it works well as a smart phone and lighter than the Tab 2 – 7inch. While its a really good tablet that is great on the go, you may want the device to be protected by a case so that its free from scracthes and scuffs caused by accidental bumbs or drops of the device. With many different Brands to choose from, Galaxy Tab case review will present you an array of what we think are the best cases .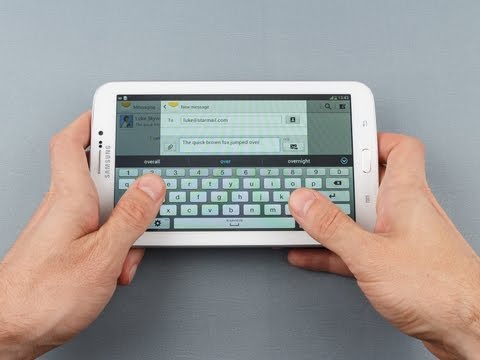 __________________________________
Bear Motion Premium Folio Case for 7 inch Samsung Galaxy Tab 3 ($5.00)
Bear motion specialises in manufacturing top quality PU leather cases for the Samsung tablets. Voted as a top brand it amazon it is always my first choice to purchase a Bear Motion case when I have a new Samsung Tablet. This Premium folio case comes with 4 name card slots, a flip stand function for viewing videos and a magnetic closure to secure the case.
__________________________________
Fosmon DURA S Series SLIM-Fit TPU Case for Samsung Galaxy Tab 3 7.0 Tablet $3.97
Stylish and elegant design with strong and durable protection for the Samsung Galaxy Tab 3
Easy Snap on design ensures that the device is still slim and sleek
Frosted finish gives your Galaxy Tab 3 a smooth and comfortable feel and also allows the view of the Samsung Logo at back of the device
Specific cutouts ensures full accessibility to all ports and slots of the device
Durable and flexible Thermoplastic Polyurethane protects the device from scratched and dumps
Invellop Black Leather Smart Case Cover (4.99)
 Similar to the Apple smart cover/smart case, this is one of the coolest case to have for the Galaxy Tab 3.The front cover has flip capability to transform the case into a horizontal stand and position for typing.
Its a break breaker that this is a great case ideal for typing in its typing stand mode, viewing a video in its landscape mode and reading a browser in its book case mode when the front cover is folded behind.
__________________________________
Roocase Samsung GALAXY Tab 3 Dual View Leather Folio Case Cover
High quality PU Leather with microfibre interior
Detachable inner sleeve for handheld Operation especially great for gaming
Sleeve Reattaches to Folio by velcro lock for horizontal or vertical view
3 grooves for displaying the device in various angles
Smart magnet closures to secure the device
__________________________________
COD Bluetooth Keyboard Leather Case for Samsung Galaxy Tab 3 7.0 (Black/Brown)
The ideal companion with Galaxy Tab 3, not only its a sturdy leather case that protects the Tab 3 well, it also comes with a detachable bluetooth keyboard. The clasp keeps the tablet secure in its book case mode. This case also comes with a free screen protector  to allow the Galaxy Tab 3 to be scratchless.