Best Cases For Samsung Galaxy NotePro 12.2 Review
The Samsung Galaxy NotePro has been branded as the most complete workstation for a tablet in 2014 for these main reasons
– has a good size at 12.2 inches
– Logitech giving Samsung more recognition by partnering with Samsung to create the Logitech Bluetooth Keyboard case for Galaxy NotePro launch at CES 2014 (in the past only Apple iPad has such privilege)
– Pre loaded tablet Microsoft Offices great for reports, presentations and data based entry
–  The Multi window Tab function simply conviently puts this tablet as a great working station
– The S stylus allows notes to be written on reports and meetings for the business work, artist and designers can use the S stylus for their art pieces and its a great too for students and teachers especially submitting an online assignment.
Galaxy Tab case review understands if customers are getting this device at a premium (rumored to be 700-900 usd) , they may want it to be protected be by the  Top Cases For the Galaxy NotePro. Our guys rate the best cases for the Notepro with this factors in mind
– Price
the case should be of a reasonably price if it just protects the tablet for instant pre orders for the Samsung galaxy notepro VSTN case is only retailing at 15-18 dollars, of course unless its the Logitech case that fetches $130 with its premium design.
– Designs and color
Smart leather cases with folds that are similar to the Apple iPad smart case or the Samsung book cases have simply irresistible and never seems to be out of fashion
– Weight
Tablets are designed to be as light as possible so we should keep them as light weighted
– Special features
 In the event of bringing the tablet out to the beach or hiking, I might want to get a waterproofed case or bag specially for the trip. Otterbox or Griffin Survior cases that most lightly saves the trouble of getting the device drenched or have unsightly cracks or scuffs on the screen or body.
A keyboard case maybe ideal for a secretary, student or sales person that constantly need to type meeting notes, projects or presentations
Our top picks  
VSTN®Samsung Galaxy Note Pro 12.2
Ultra-Thin Multi-angle Stand Slim Smart Cover Case($14.95)
IVSO Slim Smart Cover Case for Samsung Galaxy Note Pro 12.2
VSTN®Samsung Galaxy Note Pro 12.2 SM-P900 Multi-Angle Stand Slim-Book PU Sale: ($12.90)
Leather Cover Case with Hand Strap & SD Card Holder ($18.95)
Logitech keyboard case for Notepro
Logitech recently revealed the latest Professional computer keyboard case that may shelter the notepro. Even though the design and style can look recognizable to individuals who have Logitech's previous folios, the Pro's extra space enables a complete, laptop-sized computer keyboard with a specific row of application shortcut keys. Although you will pay a higher price tag at a hundred and thirty dollars, its still noted as the best case in the market.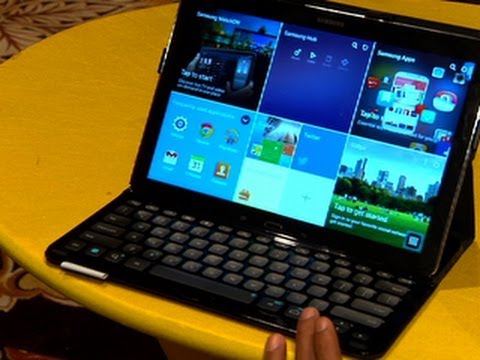 Rugged cases 
Griffin defender and otterbox cases protects the tablets from adverse conditions such as rain, sand and drops.